Artists
Check out these guys. They're cool and know stuff.
Warren Mendonsa
aka
blackstratblues
Warren Mendonsa spent his first 25 years in Mumbai, India. From 1998-2004 he was part of popular rock band Zero, as well as being a a highly sought after sessions guitarist and recording engineer in Mumbai's thriving professional music scene.
In 2004 Warren moved to New Zealand, playing with blues and folk artists like Midge Marsden, Donna Dean and Lorina Harding. During this time he also recorded two instrumental guitar-based solo albums under the moniker Blackstratblues.

He moved back to India between 2010-2011, continuing his work with Blackstratblues. They grew to become a formidable presence on the Indian club and festival circuit, sharing the stage (and sometimes jamming) with greats such as John Mayall, Billy Gibbons, Derek Trucks, Doyle Bramhall II and Steve Vai.
Warren is now back in New Zealand, working as a freelance guitarist, producer and teacher.
Check out his Instagram and Facebook!
Warren plays two custom overdrives I made for him, a 'Princeton' and a 'Screwdriver', I can make those on order. Shoot me a message for details. He is also a great sounding board for my upcoming designs and there are some more collaborations with him in the pipeline. His experience is invaluable, cheers!
Jason Herbert
Jason was inspired to pick up the guitar at age 10, after a long obsession with a toy guitar that would play Eddie Van Halen licks at the push of a button.
He never did learn to play any of those licks, but a passion for music took hold that would lead him towards a career performing funk, soul, and jazz music. Jason currently performs with soul-jazz group Lou'ana, and instrumental R&B/funk group The Morningside Philharmonic.
Check out his Instagram and the new album "Moonlight Madness" from Lou'ana on Spotify and all other major streaming platforms."
"To me, Stephan is proof that builders here in New Zealand are producing instruments that are on par with the most sought-after (and most expensive!) names in the industry.
The Phase Four has the versatility and depth of sound I've been looking for – it does everything I needed from a Small Stone or Phase 90 incredibly well, but has so much more scope to go beyond conventional phaser sounds into wilder musical territory"
Jason plays a Phase Four Phaser and is giving me his advice on upcoming effects. He knows when things are funky, in the best possible way.
Paolo Legramandi (Italy)
Paolo Legramandi is one of the most sought after bass players in Italy. His list of records that he put the low end to is as long as the scale of a Fender Jazz bass.
He is touring and recording currently with Big Daddy Wilson Band, the Gnola Blues Band (Italy) and one part of the Goosebump Brothers together with Cesare Nolli.
Apart from the pumping bass he is also a musical director and vocalist in those bands.

Paolo plays a custom made BigNoise bass overdrive and boost double pedal.
Gabe Dovaston
Gabe Dovaston has been playing guitar for over 20years.
In 2011 he was a recipient of a worldwide scholarship to study guitar in London and has shared the stage with international acts.
He has an honors degree in commercial music, a Diploma in contemporary music performance and teaches guitar in schools, privately and also for other guitar tutors. He has had lessons and masterclasses from world-renowned guitarists such as Guthrie Govan, Andy James, Martin Goulding and Andy Saphire.
Bachelor or arts degree in commercial Music
Honors degree (first Class)
Apra Music award for composition
Steve Vai Scholarship Recipient (worldwide)
Diploma in Commercial music and performance from The Guitar Institute London (best guitarist award)
Winner of the TBFM Factor (out of 450 bands worldwide)
Amp Scholarship recipient 2011
Gabe plays the Dark Distortion by BigNoise amplification.
Glyn Evans
(Mr. Glyn)
While Glyn smashes out hearty rock tunes in two bands with no intentions of slowing down, he is most known and recognised as the top repair guy and luthier in Auckland for almost two decades.
He is now focussing on his pickup range that he has developed over the years, they sound awesome and are a true quality product!
He has had more guitars in his hands, pampered, resurrected, raised from the dead or just simply buffed up than I have eaten German sausages. IOW a lot.
He knows tone. I'm glad to have his advice and opinion in creating the sounds and effects with true tone.
Check out his website instagram, facebook and youtube.
Yes he is everywhere, for good reasons.

Glyn plays a Doppler Vibe.
Andy Marra
Andy Marra, born bred and raised in Christchurch, started playing in his teens and was primarily a rock/metal/ grunge player.
Heavily influenced by Nirvana, Tool, Metallica and Radiohead.
He went on to study Jazz in Christchurch and played mainly in duo and trio formations.
He is a much sought after guitar teacher for over 10 years now.
His recent plans are to start a solo guitar project and he is planning on a NZ tour. Looking forward to that!

In his words: "I've just been trying to be different. I think of all my idols and they all did something new so I'm really just trying to push my technical and compositional skills. I don't like playing covers anymore so only do originals and improvisations."

Andy plays a Doppler Vibe and a custom overdrive.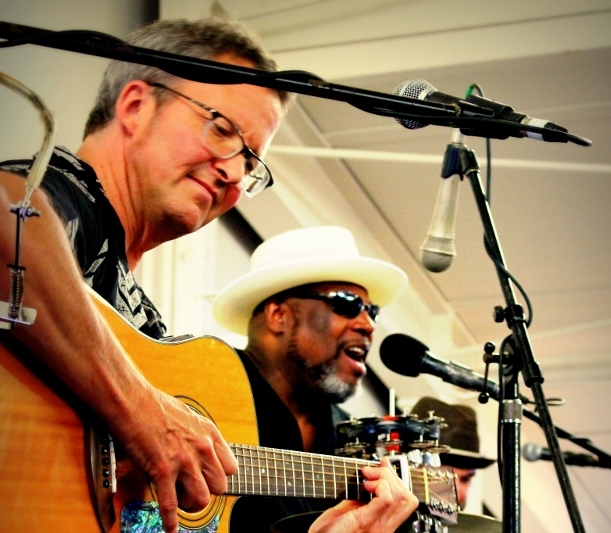 Stephan Gilberg
Well that's me. And of course I do play the stuff I'm building and test it on the road.
Not by towing it behind my truck, more like playing live and giving it heaps. Gives me also a chance to hear what others have to say about the sounds I'm making. Win win.
And I love playing music, of course. Currently in a local band called 'Hunter Gilles'. I have been over the years lucky to play in various bands and acoustic projects, touring New Zealand six times extensively and one in Australia too.
Am I biased about the stuff I'm building? Yes of course. I stand behind it, tweak it, know the inside outs and push things until I love the sounds. And you would want that from the guy who makes the stuff, ain't that right.

Stephan plays BigNoise effects and amps, all of them.
"I've had a Doppler Vibe on my board for a few months now and I still keep finding more in it.
It has a way of sitting inside your sound rather that on top of it. Great pedals and great service."
GLYN EVANS (Mr. GLYN)